Don't Miss out on the big "Lose Weight CA$H-IN"


Big News! Now taught ON-LINE .... no travel required
Get checks like this with YOUR name on them:


Come learn how to make a terrific income
helping others as a ...
Tooley Mental Gastric (NO)* Band®
Certified Practitioner!
Instructor: Duncan Tooley, Hypnotherapist & IHF Instructor
Creator of the Tooley Mental Gastric Band® Weight Reduction Process
What makes the Tooley Mental Gastric Band Weight Wellness® program different from the other hypnosis gastric band programs?
•
It is the ONLY Hypnosis Gastric Weight Loss program that has

NO

thought of

surgery

,

NO

constricting BAND! (See comparison to other hypnosis gastric band programs).

•

It is the most complete, comprehensive system with 13 weeks of session material including nutrition audios and videos, a kit materials for each client that includes reinforcement CD's, laminated mantra cards for each day, nutrition contents reference book, daily journal, pedometer, reminder ball, and much more. (See comparison to other hypnosis gastric band programs).

•

All of the materials, including the marketing aids, come in digital form on in a downloadable library that is organized by week with exactly what you need.

•

Tooley Mental Gastric Band Weight Wellness program is based on the client squeezing their own stomach under hypnosis with the aid of an external energy field. There is not even the suggestion of surgery. This program is perfect for those who are fearful of any hint of surgery.

•

The program is based on the Law of Attraction, that is, it is entirely oriented to the belief that when you are thinking what you don't want, you will get more of the same! The hypnotists using this program attract the clients who want it and are able to pay for it. The clients attract the results that they want
Your Tooley Mental Gastric Band Weight Reduction Program training includes:
1.
A turn-key system to get clients and referrals NOW!
2.

In-Person class in southern California:

3 days of interactive training and practice.



Virtual distance class:

Three days of intensive virtual minds-on training, 3 hours together online and assignments that reinforce the day's instruction and prepare for the next day.

3.
Step-by-step practitioner instruction manual. (digital version)

4.
Fourteen complete session scripts, each with reinforcement client "motto" (mantra) cards.
5.
Stomach-constriction-inducing Oscillator to stimulate & simulate a stomach constriction via hypnotic suggestion to client's stomach muscles.
6.
Personal training from Duncan Tooley, CHt, CHI, developer of the program.
7.
Experience the sensation of the Mental Gastric (NO) Band on your own stomach and your reduced appetite. (Totally adjustable for those who do not desire to reduce weight).
8.
Complete CLIENT package: includes 7 audio CD's, journals, pedometer, image ball, handouts, calorie/carb/fat reference book, nutrition education materials, reminder cards, restaurant portion card. (CD's furnished as mp3's)

9.
Mayo Clinic DVD, 14 CD's on nutrition vs. disease, 2 CD's on mind power for use by clients on a loan basis (in addition to the 7 CD's in thier permanent personal client kit)
10.
Marketing materials: News releases, brochures, flyers, logo, tag line, PowerPoint presentation, "Sampling" marketing process.
11.
Digital documents and images, base caloric requirements calculator, presentations, client handout templates, session scripts, marketing images, news releases, radio and print ads (over 280 files)
12.
Licensing to use the Tooley trademarks in your marketing:
Mental Gastric Band®, weight wellness program,
Hypnosis Weight Loss Band®, Hypno-Gastric-Band®,
13.
Three Certificates for YOU:

| | |
| --- | --- |
| • | Tooley Mental Gastric Band® Practitioner by Tooley Weight Wellness Clinic |
| • | Weight Loss Specialist by International Hypnois Federation, Medical and Dental Division |
| • | Membership in International Hypnosis Federation - (new members only) |

14.
Twenty-four CEs for RNS, MFTs, Social Workers, Research Psychologists.
What Tooley Practitioner's are saying:
"The powerful Tooley Mental Gastric Band® (Hypno-Gastric-Band®) weight loss program is a perfect fit for my former smoking clients. My first 20 clients are averaging 10 lbs per month weight loss easily. They cannot finish their meals! One of my clients lost 27 lbs in 8 weeks and I had to advise her to slow down. I am thrilled with the program and my clients are thrilled with their results." -- Ken Guzzo, CHt. smoking cessation hypnotist & Tooley Mental Gastric Band Practitioner
"Excellent content, materials & presenter. Duncan over-delivers on all aspects of what he teaches. He is a master communicator in a gentle yet authoritative way. I can't wait to put this program into action."
-- Diane Edwards, Certified Tooley MGB® Practitioner
Update from Diane: " I'm loving this business and it is really working great for me. You can see my website at www.MentalBand.com. "

"The class was more than I expected. I released resistance to starting a new practice, experienced for myself the effect of the gastric band, and am now ready to apply the turnkey program to hypnotherapy and life." -- Maianne Sturmann, Certified Tooley MGB® Practitioner
"I expected an understanding and sufficient knowledge to implement, and I got much more than I could have imagined. I take away the confidence, vision and motivation to implement the Tooley Mental Gastric Band right away. If you practice hypnosis, this program is a must." --Roy Audette, Certified Tooley MGB® Practitioner
"I came hoping to find a hypnosis technique that would really work for weight loss and received an incredible technique with ALL the tools and support I need to be successful for myself and my clients. I earned my class tuition back on my first client." -- Deborah Drummond -- Certified Tooley MGB® Practitioner.

Full certification training

Next Regular Trainings:
Dec. 12,13,14, 2014 live in person Sothern California ($1997).




Dec. 29,30,31, 2014 virtual on-line (3x 1-hr calls daily) ($1997)




** See footnote for class times that accommodate students worldwide.




Your Best Time:

Personal one-to-one training via Skype

(call 310-832-0830 to register). (tuition $2997)



Call 800-997-7605 to inquire about possible promotions. Ask for Duncan.

For the distance-learning trainings, all materials in your hands for the online training (nutritional CD's, DVD, complete client kit (CD's mantras, reminder ball, pedometer, cal/carb/fat reference, case), Energy Oscillator, complete digital version of all materials, certificates, follow-up support)

SALE

50% OFF tuition for December 2014 classes


Includes physical materials ($200 value) + on-line access to all training materials + training (either in-person or distance, depending on the dates)

$997
or 4 monthly payments of $297
(call 310-832-0830 to register)


What does the Tooley Mental Gastric Band do

physically

?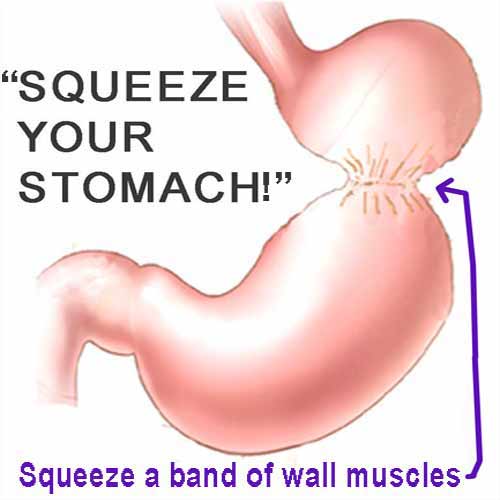 The weight reduction is based on a smaller stomach pouch at the top of the larger stomach, just asin a physical lapband. The narrowing constriction is caused not by a surgically implanted band, nor by imagining such a band under hypnosis. Instead the narrowing is caused by a deliberate and focused squeezing of a band of stomach wall muscles during a hypnotic process.

Does the stomach actually narrow, or does the individual just BELIEVE it narrowed? For the first years of using this procedure, I had no physical proof that the stomach actually narrowed. It certainly had that effect becasue those who installed the Tooley Mental Gastric Band® felt that there stomach was squeezed, were unable to eat large portions, and lost weight as fat was converted to fuel.

A client, Christine R., had been steadily losing weight for months after her Tooley Mental Gastric Band was installed. When she went for a thermogram (useful for early breast cancer detection), the technician staff was unable to interpret the thermogram until Christine explained it to them. The narrowing in her stomach that divides it into a smaller upper part and larger lower section is obvious, especially when compared to the thermogram of a normal stomach.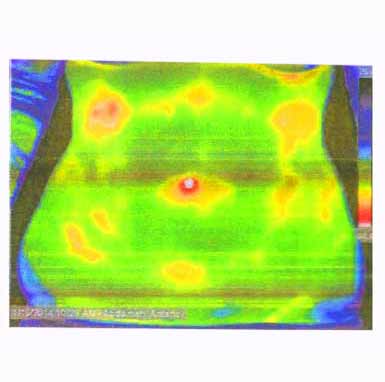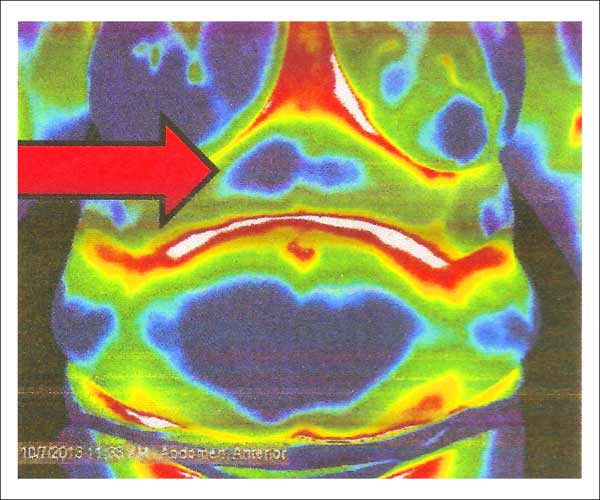 Thermogram of normal stomach Christine's Thermogram of Mental Gastric Band effect
This gives conclusive evidence that there is physical change to the stomach with the Tooley ("Squeeze Your Stomach" with hypnosis) Mental Gastric Band.
What graduate practitioners say about the training:


email:
duncan @ TooleyWeightClinic.com
From a recent training:
Were your expectations met?

Beyond expectations

What was the most surprising to you about the experience?
That is was so well organized & presented. I am very pleasantly surprised at how easy it is to follow and duplicate.
Please rate:
·
The presenter

awesome
·
The content

awesome
·
The materials

awesome
·
The on-line files

awesome
·
The flow of the class

awesome
·
The total experience

awesome

Get your complete training package for:
"Turn OFF My Food
(or drink)
Craving"
(Includes instructions,client materials, & marketing flyers.)


84% of clients say; "I was amazed; It happened without me even thinking about it!"
More info
about this fabulous little package for convincing people of the power of hypnosis for weight loss
HERE.